Why Custom Training Plans?
(A) We want you to have the best race day experience possible.
(B) We want you to finish strong and feel ecstatic about your results and race day experience.
(C) We know you are busy, and we want to help you make the best use of your training time by focusing on workouts and training activities that maximize improvement.
With a custom training plan, we analyze your level through a detailed questionnaire to gather background information, race goals, and more. We will combine your answers with a follow up email to create a 100% personalized training plan. This plan will be based on your ability, your current health and fitness level, your desire to train, as well as your race, distance and time goals.
Generic and group training plans are just OK, but most lack any customization to your unique situation. In many cases, those plans are created to reach a large cross segment of the population and do not take into account your experience level, your past injury profile, your age, your availability to train and other specifics to you that impact maximum results. On the other hand, we take the time to work your background and unique ability to create a plan just for you.
How Does It Work?
After purchasing your custom training plan below, you will receive immediate access to a protected area of our website where you will find instructions for filling out our questionnaire and waiver. The questionnaire is detailed and thorough, and most people complete it in about 20-45 minutes. This questionnaire is filled out online and electronically submitted back to us.
Once we receive your questionnaire, we create your training plan (up to 20 weeks) and post it inside Final Surge. Final Surge is a site where we post your training plan, including detailed workout instructions and more. Prior to your plan being posted, you will receive an invite for your free Final Surge account and once you accept the invite, we will post your plan as soon as it is ready. Most plans are posted within 24-48 hours (sometimes sooner), depending on how thoroughly the questionnaire is completed or depending on how many follow up questions we may have and your response time.
Once posted, we will notify you by email giving you 24x7 access from any web browser to your Final Surge account. You may also download the mobile app (optional) to access your plan from your iPhone or other smartphone, or simply upload your workouts. You can even upload/sync your GPS data from GarminConnect if you have a Garmin GPS watch.
Your daily workouts come with detailed instructions and will be available online, and your daily workouts can be emailed to you each training day to show you the current, and next day's workout. You can also turn off these notifications if you do not want the daily reminder.
In the below picture, you can see a calendar. Clicking on the calendar day will show you the detailed workout instructions (not shown). You can also track metrics like running locations, equipment usage (miles/km run on your shoes), workout stats, etc.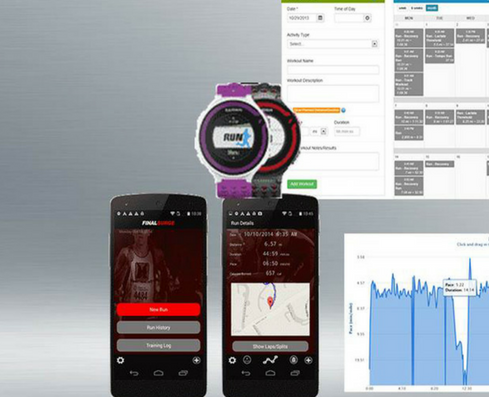 That's It! All You Need To Do Is Take Action And Get Started Today.
The process is simple, easy, affordable and well worth it. Ordering is easy. Just click on the button below to get started! We offer a 100% no-hassle, satisfaction guarantee. If you receive your plan and you aren't happy, just let us know and we will fix it, or refund your money.